---
---
Race Day Registration:
Download and fill out the Entry Form / Release. Bring filled-out form with you along with payment
Opens at 7:00am MDT
Race day registration closes 45 minutes before start
Race day reg price: add $10 to fee
Juniors 9-18: $20
Field limits vary by category
One day timing chip rental included in your entry fee
Entry fee includes USA Cycling Insurance and Colorado Cycling Surcharges
It is against the rules to race with anyone not in your category
Timing Chip / Number Placement
Riders must mount the tag on their seatpost exactly as pictured. If not mounted properly, they will NOT get a chip read! For example, if you were to mount it so the gray/silver chip itself (visible in the photo below) is horizontal, it will not read, and your timing won't be recorded.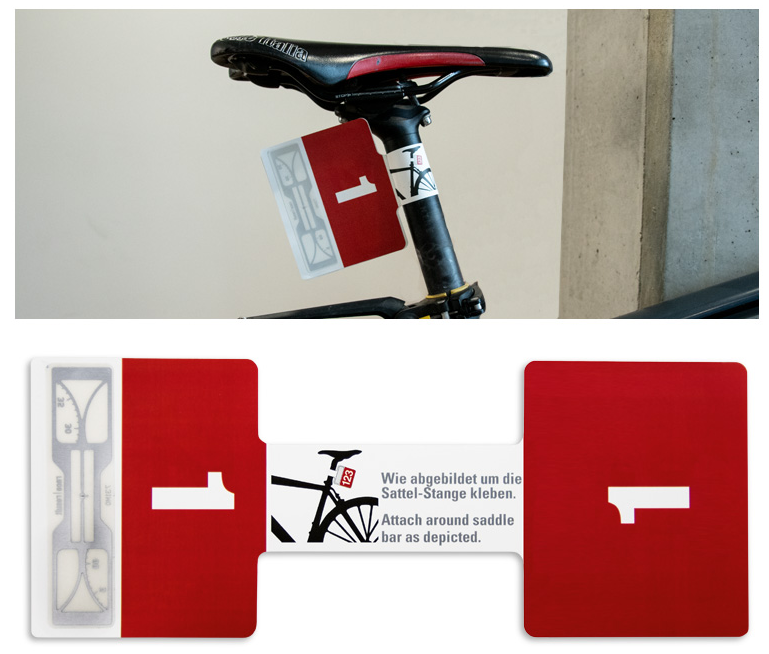 ---
IMPORTANT INFORMATION
There are 3 waves for the Newbie Cat 5 beginner racers. Please register for the appropriate one based on gender and age:
One day license Cat 5 Newbie Wave 1: Senior Men 5, under 40
One day license Cat 5 Newbie Wave 2: Senior Men 5, Master over 40
One day license Cat 5 Newbie Women's category
Collegiate A participants are not eligible for cash prizes.
Collegiate points are only given to those registered in Collegiate categories.
---
LICENSES:
USA CYCLING: You must have a USA Cycling license to race. Annual licenses available at www.usacycling.org.
Junior licenses free here.
1-Day Beginner license: $10, only for Cat 5 Men/Women who have never previously held a USAC license with a higher category. Can be purchased online when registering.
USAC 1-Day Experienced license: $25, only available to former USAC category 1,2,3,4 and must be purchased thru your USA Cycling account.
COLORADO CYCLING: Membership required ($5 one-day available on site). Annual CC memberships available at coloradocycling.org. Not required for out of state athletes.
USA Cycling waiver must be signed by all racers or parent/guardian for anyone 18 or under.
---